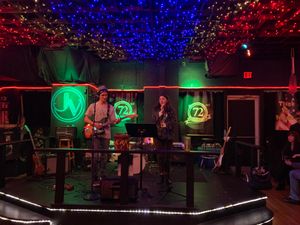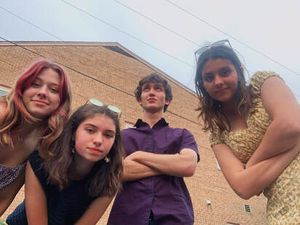 Latest Release: On your Time
If you're on our website you probably know us pretty well- (mostly) wide-eyed romantics who make songs you can shout at the top of your lungs as you're driving down I-95. "On Your Time" is exactly that, a charged rock ballad about the uncertainties of falling in love with someone you just met, anchored by Natalie's soaring voice and recorded at the legendary Cue Recording (Doo-Whops & Hooligans, Roger Waters). This song has been in the making for about 3 months, and we're so excited it's finally out!
Downhill Release
"'Downhill' circles around you in its airy mix of emotions, and for some, brings out the nostalgia of young love in high school and college, or the reminisces of the adventures of youth." - Jeremy Bailey A DC Journey
"'Downhill' captures those in between emotions between the transition from high school to college. Lead singer, Natalie Ingalls's voice is punkish in attitude and Lorde in sound. The way she pulls the music along with her, trying to catch it up to her emotions is magic, she controls everything about it." - Grrrl Music
"A beautiful song from a bright-eyed indie rock band. The star of the show is Ingalls, with a voice that instantly captures your attention and pulls you into a photo album of old memories." - Nessie Avery, B Sides & Badlands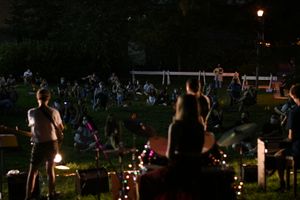 Drive Me Home release
"Hailing from the suburbs of Northern Virginia, Indigo Boulevard just released their new single, "Drive Me Home." Taking their cues from bands like Middle Kids, the anthemic track mixes noisy drums, clean guitars, and female lead vocals. It feels like a summer jam filled with youthful exuberance and a touch of melancholy." - Adam Morgan, Surviving the Golden Age
 "Today's track of the day comes courtesy of Virginia's Indigo Boulevard: 'Drive Me Home' is out today. The band describe themselves as a "bunch of self-taught musicians and former theater kids who banded together to escape the tedium of the suburbs with rousing summer anthems and dreamy ballads. This song is a testament to summer love that lasts a little too long, and is intended to be blasted on car speakers with the windows down!" - Loud Women
"US outfit keep us dreaming of the beach on this bright and uplifting indie-rock stunner" - Chris Bound, Mystic Sons
EP Release
For high school seniors grappling with the suddenness of adulthood, clear-eyed romance is often put on the back burner. Those little moments- locking eyes with the pretty girl across the class, brushing hands with the boy you sit next to on the school bus- no longer seem so crucial, and defining. Cloud Noise is a testament to the magic of youthful romance, and acknowledgment of the new pressures and anxieties of young adulthood. Whether "treading so lightly on broken floors," (Untethered) or "folding their sails, cause the water's smooth" (Cloud Noise), the protagonists of this EP carefully navigate the cloudy landscape of modern love, without abandoning the exhilarating lightness of newfound adoration. Inspired by our own relationships, Cloud Noise is an honest, optimistic take on what it is like to be a teenage romantic in 2019.